Host Your Conference With Us
We set the atmosphere, you bring the event to Marshalltown! The Iowa Valley Business and Community Solutions Conference Center at 3702 S. Center St. in Marshalltown is one of Central Iowa's greatest assets for your convention, meeting, and celebration needs. We are here to help you create a successful event … no worries, no hassles, no regrets!
Features
Modern – Facilities were renovated in 2021 to update the form and functionality of both the conference and meeting spaces.
Adaptable – A variety of facility options and room set-ups to accommodate small group meetings of 8 to 10 as well as conventions of 200 to 300.
Technology-Forward – State of the art technology, including multi-screen projection, speaker systems, free WiFi in the entire conference center, handheld and lapel microphones, conference center phones, Zoom video conferencing capabilities, simple technology integration, Smart Carts with mobile technology, and much more. If you have a technology need, ask and we will work to accommodate you.
Amenities – Updated amenities include a newly renovated kitchen, ADA-compliant restrooms, a convenient covered drop-off entrance, spacious entry with a registration area, and receptionist capabilities.
Affordable – Rental fees vary depending on the type of event, the number of rooms required, technologies, and technical assistance required.
Location – Convenient Central Iowa location (60 minutes from Des Moines, 45 minutes from Ames, 60 minutes from Cedar Rapids). We are directly off of Hwy 30. We also offer free parking throughout our facilities. We are also conveniently located near hotels and dining options.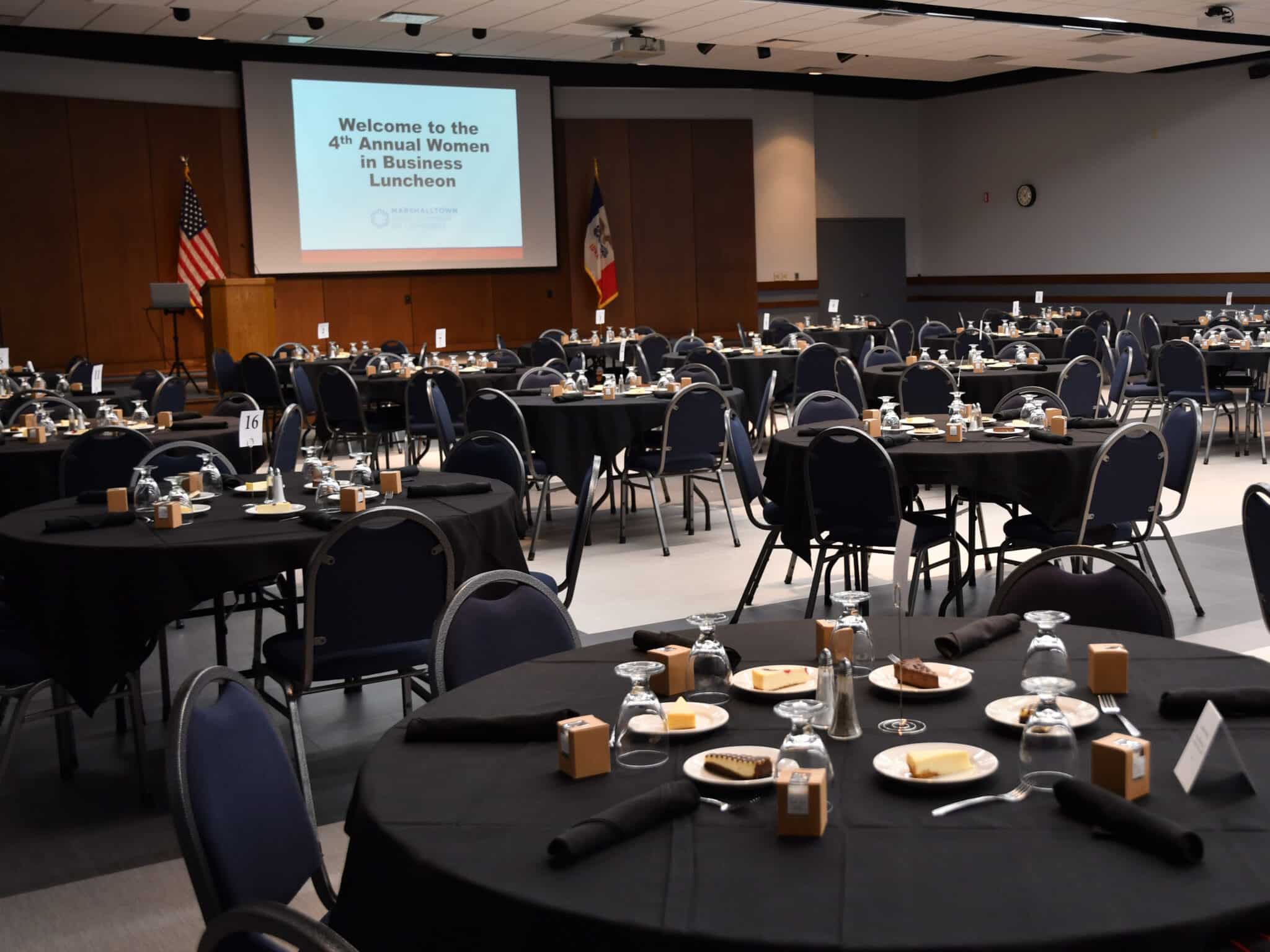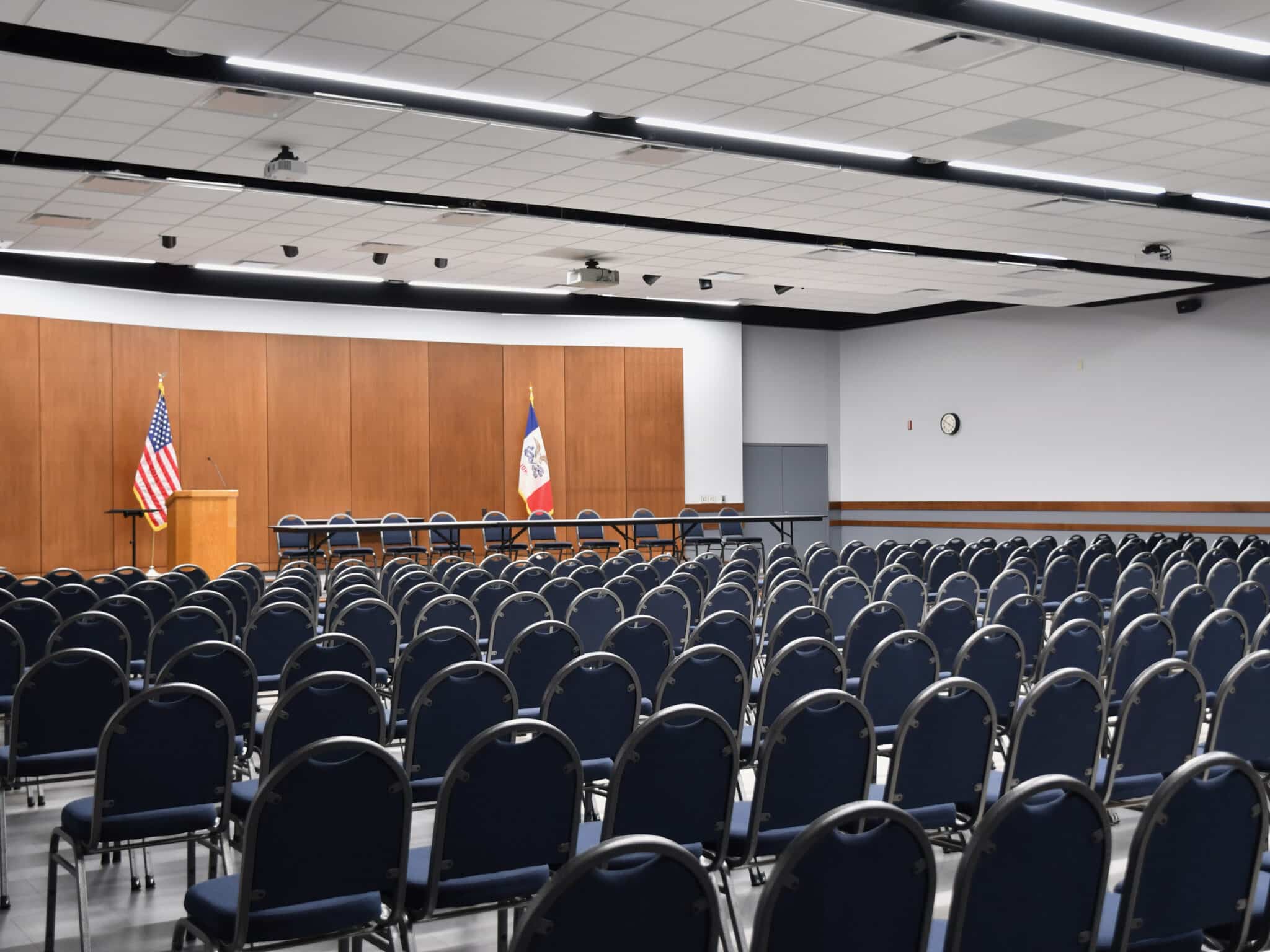 Planning Services Included
We want to help you host a premier event for your guests. We'll help determine which of our rooms and services best meet your needs. We provide conference planning and coordination and appropriate room set-up services and assistance. We'll be glad to prepare a bid/quote for your event based on the facilities and services you plan to use.
Catering Services
We have an on-site catering service provided by Great Western Dining. To meet your needs, we'll need an estimate of the number of guests you're serving. We ask for two weeks' advance notice when possible; a 72-hour guarantee is required. Our caterer prepares enough food to serve 5% above the guaranteed number of guests, and invoices are sent after the event. Great Western Dining has the first right of refusal on all orders.
Service options include a basic buffet (with price quotes based on disposable products), a deluxe buffet (add 10% for china service and linens; tables are bussed), and a deluxe sit-down meal (add 15% for china service and linens; meals served to groups of 20 to 75 people).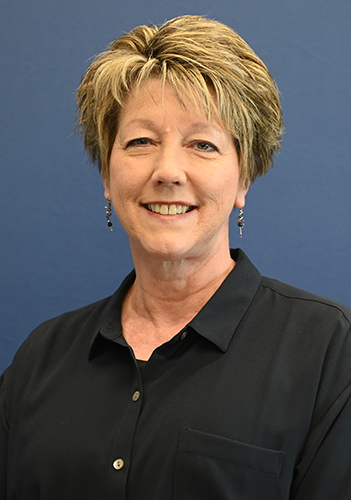 Valerie Ruff
Contact Business and Community Solutions
641-752-4645
800-284-4823
ivceinfo@iavalley.edu